The Franco-Indian Campus in Life Sciences of Université Côte d'Azur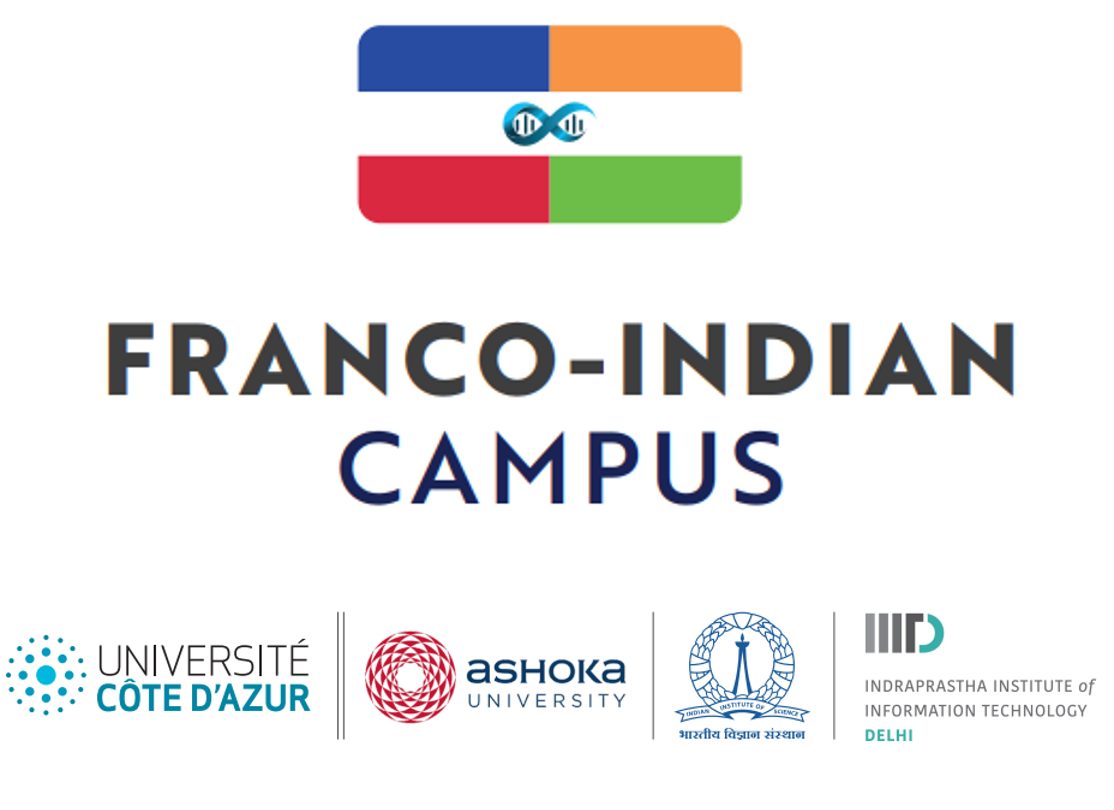 The Franco-Indian Campus of Université Côte d'Azur is one of the 4 projects selected in the framework of the call for projects on the creation of a Franco-Indian campus, by :
- the Ministry of Europe and Foreign Affairs (MEAE)
- the Ministry of Higher Education, Research and Innovation (MESRI)
- the Campus France agency
- the Indian embassy in France
The Franco-Indian Campus is based on four partners
Three geographical hubs
Delhi
Nice Sophia Antipolis
Bangalore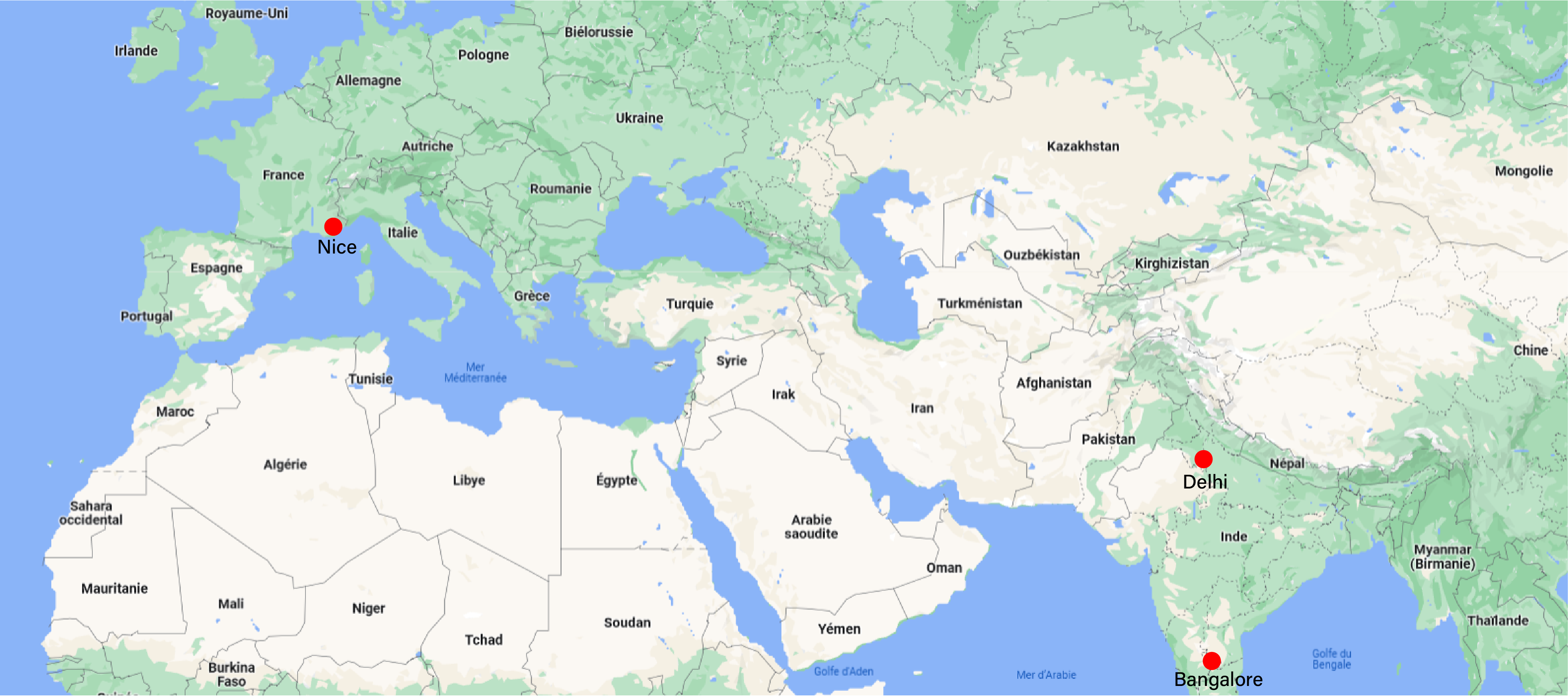 A network of associated partners
National research institutes, incubators, clusters, hospitals and companies driven by the same ecosystemic vision to address the continuum between education, research and innovation.
Workshops
We conducted our 1st Research workshop on June 5 and 6,2023 organized at IISc (DBS auditorium) with two intensive days of presentations (24 scientific talks) and discussions. The scientific presentations were open we had between 50 and 80 attendees in average. The sessions were as follows :
Genomics and Multiomics
Bioinformatics, Therapeutics and pharmacology
Medical data and Cancer
Modularity of Academics programmes to promotes exchanges in Life Sciences/allied areas
This also allowed to refine our research scope and identify novel topics that came in many talks and were discussed with a lot of enthusiasm
: Medical data and machine learning, biological data treatment including imaging, aging, cancer, inflammation, metabolism, infectious diseases and antibiotic resistance. We also had important strategic discussions.
Winter and Summer Schools
In order to increase the number of mobilities to India and France, winter and summer schools will be organized to allow students to discover India or France for short periods of time, giving them a taste of what a longer mobility might be like.The winter and summer schools will include cultural activities to give students a better understanding of the Indian and French "way of life".

As a concrete example of this initiative, Professor Deepak Saini from the Indian Institute of Science (IISc) will contribute by delivering a keynote lecture at the Aging Winterschool December 11-15, 2023. In reciprocal collaboration, four IISc students—Amruth Bhat, Atridev Pandit, Baivabi Bhattacharya, and Souvik Mandal—will participate in the Winterschool hosted in Nice.

Professor Saini will engage in meetings the research teams to finalize collaboration details and master exchanges on Redox signaling and ion transport, specifically focusing on the pratical aspect of master student exchange program.

This exchange will not only deepen academic ties but also contribute to the cultural exchange between the institutions, enriching the overall mobility experience for students
Mobility, scholarship programs and funds for master
Students exchanges
The objectives will be to:
Make Indian students aware of the opportunities to study in France, as they traditionally turn to English-speaking countries
Inform French students about the possibilities of studying with our Indian partners
Organize exchanges of scientists between the different partners
For instance, during the period of January to June 2024, three second-year Master students from UNiCA NACHIT Fatima, BERNINI Annael, LE CLEZIO Jeanne will undertake their master theses in IISc laboratories for a duration of six months, while two first-year students MARCELLINO Manon, ARIAS Timmy will engage in a 5-month research internship, with specific research subjects and teams outlined in the table below.
Scientific Exchanges
November 13-20


Professor Kasturi Mitra (Ashoka University) visit at UNiCA and keynote lecture on "Mitochondrial priming of stem cells". Pr. Mitra had scientific exchanges with the teams of UniCA research Institutes : C3M, IBV, IPMC, IRCAN, LP2M during the Nov 13-20 week.

November 22-25

Pr. Sethi and Ray will stay the week after the summit for scientific collaborations with the teams of Nice and setup a common master track on computational biology (to open Sept 2024). Pr. Ray will give a lecture on Lipid transport Proteins and protein lipids-interaction and meet with the "Lipid Transport" team of IPMC (G Drin, https://www.ipmc.cnrs.fr/cgi-bin/site.cgi?page=drin) and with the Transport and Metabolism team of LP2M.

Pr. Sethi will meet the colleagues of the University Hospital Intensive care unit: Pr. Jean Dellamonica (Dean of the Faculty) and Dr. Mathieu Jowziak – Unité de Recherche Clinique de la Côte d'Azur (https://univ- cotedazur.fr/laboratoires/ur2ca) on patients large datasets and from the Centre Antoine Lacassagne Cancer Center on Imaging for cancer patients and proton therapy Pr. Olivier Humbert


Prs. Tavpritesh Sethi, Debarka Sengupta and Arjun Ray of IIITD are invited and to attend and give keynote lectures to the Sophia Summit on Artificial Intelligence organized by the 3IA artificial Intelligence Institute that gathers international specialists on AI. Two from IIITD Pradeep Singh and Sukriti Sacher will also attend the summit and present a poster

The summit sessions will also be available online for the partners of the Franco-Indian Campus

November 24

Ashoka University Mini Symposium on Metabolism. Pr. Laurent Counillon
and Dr. Jérome Gilleron will take the opportunity of their stay in Delhi to give two lectures at Ashoka University, entitled respectively : "Insights into pH regulation, metabolism and H+ transport in mammalian cells"and "Endocytic trafficking in obesity-related metabolic pathologies". They will also continue the scientific discussions with the Ashoka teams. In the meantime, Dr Jowziak plans to visit the computing teams in IITD

December 11 - 15

Pr. Deepak Saini from IISc is invited to give a keynote lecture at the Aging Winterschool, Université Côte d'Azur Nice. 4 IISc students will come to Nice to attend the winterschool: Amruth Bhat; Atridev Pandit; Baivabi Bhattacharya, Souvik Mandal.

Pr. Saini will have meetings with the LP2M and IRCAN teams to finalize the collaboration on Redox signaling and ion transport in relation with aging concerning in particular the practical modalities of the IISc master student Exchange with Baivabi Bhattacharya.
Courses and training activities
Our students will be able to move quite easily to Delhi, Bangalore and Nice as they are trained to build their own training by choosing a set of teaching units in a modular way.
Future master and doctoral programs
These programs will be built around digital biology and therapeutic innovation between the partners.
Students on campus will have access to several activities/events.

For more information, please contact
eur-life@univ-cotedazur.fr